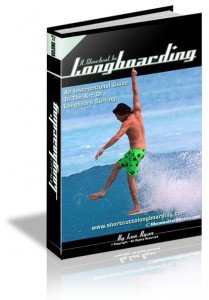 The Best Instructional Guide to Longboard Surfing!
"Hey Lee. Great Book! Really good format for a surf instruction book. I really like the red lines showing where you should be looking and where your centre of gravity should be. It makes it really easy for beginners to understand." 
Taylor Jensen, 3 x WSL World Longboarding Champion
"Lee Ryan has produced a world class work on longboarding that equals anything yet written about learning to surf and especially learning to ride a longboard."
Pacific Longboarder Magazine
"It's hard to get the balance between over-explaining and just skimming the surface, but here it's just right."
Carve Surfing Magazine
"Hi Lee! Very impressed with the book, good effort." 
Elliot Dudley 2006/7 European Longboard Champion
From the desk of Lee Ryan,  former ASP (WSL) Professional Longboard Surfer and Internationally Qualified  Surf Coach, Nine Times British Longboard Champion, Head Judge of the New Zealand Longboard Tour and WSL and International Surfing Association (ISA) judge.

Are you new to the sport of longboard surfing and want to fast track your learning program? Or are you a veteran of the sport who needs to iron out some bad habits you have picked up along the way?
Either way, I can help you get the most out of your next surf session so you leave the water with a smile on your face!
I spent over 10 years competing on the Association of Surfing Professionals (ASP) World Tour, now the World Surf League (WSL) I have competed in longboarding events all over the world, and have numerous titles to my name including nine British National Longboard titles.
I now live in New Zealand and am the Development Manager for Surfing New Zealand.  My job involves delivering International Coaching and Judging Programmes, monitoring the safety of  our Approved Surf Schools, promoting surfing as an activity through the school curriculum, national selector of  all NZ Junior and Open Teams and organising officials for our national competition circuit.  I am also Head Judge for the popular  New Zealand Pro Longboard tour.
Prior to moving to New Zealand, I was a member of the British Surfing Squad for more than 12 years and coached the British Junior Team at various team training sessions leading up to the European Championships and the ISA World Surfing Games.
Before I moved to New Zealand, I was based in Newquay, West Cornwall – and I spent a lot of time out of the country competing. With surfing being so reliant on having the right conditions, wind direction, tides, and swell etc it was often difficult to find the time to help everyone who contacted me wanting one to one tuition – so I created "A Shortcut To Longboarding" to put my coaching into an Ebook which anyone can easily download and benefit from my coaching, anywhere in the world, at any time – regardless of the conditions.
So no matter where you are in the world and whether the waves are 1ft onshore or 6ft offshore, my top selling coaching Ebook will help you to make the most of your next surf session!
Why Download This eBook?
Learn how to improve your jump up, stance and style, walk the board, hang five, hang ten, perform drop knee cutbacks, paddle out in big surf and many more
Top tips from the worlds best professional longboarders including 3x WSL World Champion Taylor Jensen (USA), Jye Byrnes (AUS) Chelsea Williams, 2006 World Champion Josh Constable and 2009 World Champion Harley Ingleby
Information on board design, fin design, fin placement and choosing a new longboard
Learn the rules and surfing etiquette
Surf Fitness – How to train to be a better surfer
Colourful photo's explaining each manoeuvre in detail
Interactive Powerpoint displays breaking down the  manoeuvres and making them easier to understand.
Ever wondered what board dimensions the top professionals ride? – find out here
Want to turn pro one day? Learn how international longboard competitions are judged
Watch video clips of the pro's to help you understand the manoeuvres in real time
Great photo's from the world's best lensmen
Judging exercise to test your judging skills
Instant access to the information you need – when YOU want it 24hrs a day
Yours to keep for ever – won't fade or get eaten by the dog!
Sample Pages: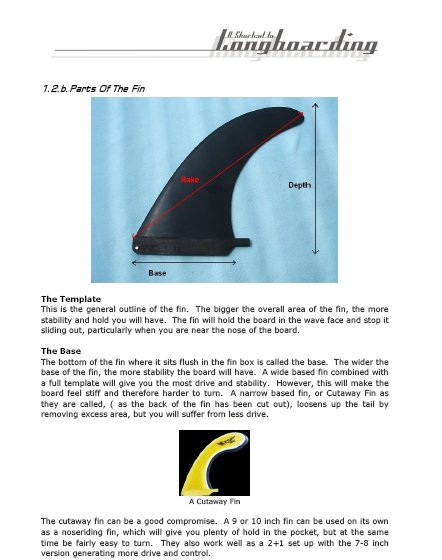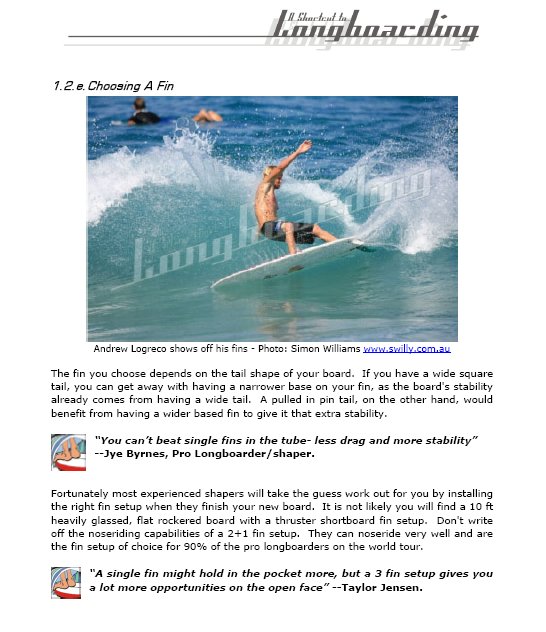 Powerpoint examples:

Video Example
Reader Feedback
"Cheers Lee, your book is exactly what I've been looking for since starting longboarding a few years back! Easy to understand tutorials, great pictures and all in an easy to download format" Ben, Brighton ,UK
"Hi Lee. Loved the book! Why didn't you do it sooner?! I could have avoided the last few years of struggling to find my way to the nose and crouching 2 meters in front of the barrel! I don't have the time to surf every day, so was stoked with all your tips. I will try them out next time I'm in the water."James, Burleigh, Australia
"Thanks for putting in the time and effort into this. Only the 'Longboard start-up guide' comes close. It's a nice touch to see memorable shots and the techniques explained – big tick. Overall, index of topics gets another big tick. Impressive! I would definitely recommend it for someone who wanted to improve their longboarding technique. It's well structured and thorough, covering both Traditional and performance techniques. I've picked up some useful tips, particularly:
– the "punch through" paddle technique would've saved my neck from a dose of whiplash a couple of times;
– the correct method to "Turning your board around" – very basic but critical to getting into a wave nice and early, definitely the difference between making a late take off and eating it…. been practicing it and noticed a difference. Phil, Central Coast, Australia
"Got the book, looks great! No wonder I'm a kook, so much I didn't know! " Phil Jarrett, AUS
"I love the book I like the section on nose riding and drop knee turns the two things that sum up longboard riding for me.
Thanks again but I must go as I've got some reading to do before I check out tomorrows charts." Cameron, Noosa Heads, Aus
"Went for my surf this morning after reading your book and had managed to get over my fins a lot more than previous surfs. ie deliberately stepping back on to the deck grip I stuck there so I could work out where my back foot is." David Thomson
"Hi Lee, Really enjoyed the ebook, well put together, some great hints and tips.." Andy Williams, Porthcawl , Wales, UK
"Hi Lee, There is plenty of stuff to work with and I cannot wait to start getting stuck in. You have covered everything I have been looking for and more." Ciaran Farrelly, Ireland.
"Hi Lee, I just finished reading your eBook and I wanted to tell you that it is really interesting and very well written. Each explanation is very clear annd well illustrated. I can't wait to go hit the waves! Amazing work, totally worth the price!" Raffaele Lacroix
With the book, you have access to my coaching, instantly, wherever you may be, whatever the conditions – and you can refer back to it again & again, before & after each session if necessary.
This isn't just a few pages of surfing tips! I have worked for months – forgoing many surf sessions – in order to be able to coach anyone, anywhere – by literally packaging all of my knowledge & longboarding coaching experience, into one multimedia package, for you to be able to benefit from for years to come.
I won't bore you to death with pages of text, instead you'll find high quality illustrations & examples, a number of slide show presentations, video clips & other interactive content!
When you download the free chapters, just one look at the table of contents will give you an Idea of the wide range of area's covered.
Anyway, surf's pumping, so I'm off, but download the free chapters, have a good look & you'll quickly see what it's all about, and the potential this book has to improve your surfing!
NOW JUST $9.99! for limited time only (was $37.00)
Click on the logos below to order now and download straight to your kindle or iPad!
Please note  "A Shortcut To Longboarding" is not a physical printed book, it's a downloadable book, which means you can download it straight away, rather than waiting for delivery of a physical book. Making the book a digital downloadable book means you benefit from interactive content, such as powerpoint presentations and video clips.
It's a large file so it may take 2-3 minutes or so depending on your connection speed.
I hope you enjoy it, I'm sure you will!
Happy Surfing!
Lee Ryan